Podcast: Play in new window | Download (Duration: 1:10:33 — 64.6MB) | Embed
Subscribe: Apple Podcasts | iHeartRadio | RSS | More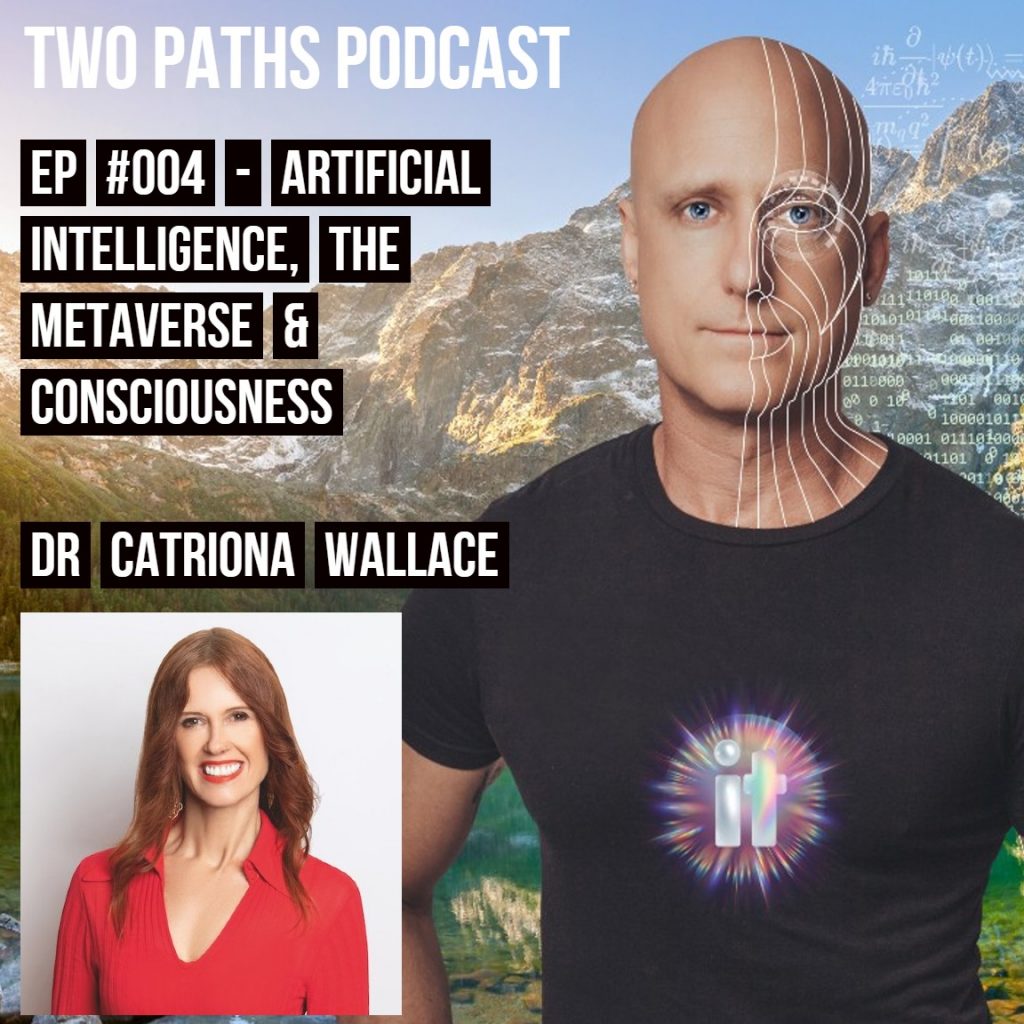 Troy is joined by Dr Catriona Wallace one of the world's most cited experts on the topics of AI, the Metaverse, Web3, responsible tech, women in leadership and the future of work.  Troy first met Cat back in July when he attended a technology and meditation event she was hosting in Byron Bay. The event brought together a group of 40 people, half were leaders of spiritual communities and the other half were technologists to explore the intersection between technology and consciousness. 
As a follow up conversation from the event… Their discussion covers everything from why regulation and ethics are imperative in the emerging Metaverse, where technology is leading us, what that means for humanity and consciousness itself and how we best prepare ourselves for a future of unprecedented change. We hope you enjoy this conversation with Catriona as much as we did. 
Who is Dr Catriona Wallace?
Dr Cartriona Wallace is a Woman, a Mother of 5 and a Medicine Woman in training. 
She has been recognised by the Australian Financial Review as the Most Influential Woman in Business & Entrepreneurship. Cat is the founder of the Responsible Metaverse Alliance and the Executive Chair of Boab AI – Artesian Capital's AI Accelerator and VC fund. Catriona was also the Founder of Ethical AI Advisory, now part of the Gradient Institute, where Catriona is a Director. 
Cat is the co-author of the book Checkmate Humanity: the how and why of Responsible AI.
She was the Founder of Artificial Intelligence ASX Listed company Flamingo AI, which exited in 2020. Flamingo AI was the second only woman led (CEO & Chair) business ever to list on the Australian Stock Exchange.
Catriona is an international keynote speaker and one of the world's most cited experts on topics of AI, the Metaverse, Web3, responsible tech, women in leadership and the future of work. Catriona was recognised by Onalytica as one of the top AI speakers, globally.
She is an Adjunct Professor at the Australian Graduate School of Management, UNSW, Catriona has achieved Advance Australia's highest award in Technology & Innovation for Australians working abroad. She has been named among the Top 9 Female Entrepreneurs by the Sydney Morning Herald and Top 30 Women redefining business by Womens' Agenda.
With a PhD in Organizational Behaviour: Technology Substituting for Human Leaders, Dr Wallace was inducted into the Royal Institution of Australia acknowledging her as one of Australia's most pre-eminent scientists. 
Connect with Dr Catriona Wallace:  
Linkedin | https://www.linkedin.com/in/drcatrionawallace/  
Twitter | https://twitter.com/catrionawallace 
Responsible Metaverse Alliance | https://responsiblemetaverse.org/ 
Gradient Institute | https://www.gradientinstitute.org/ 
BOAB AI | https://www.boab.ai/ 
This episode is sponsored by: Two Paths Podcast is a production of iAMconnected. A digital platform dedicated to the evolution of consciousness. Check it out at https://iamconnected.com 
iAMconnected offers 6 week online intensives combining, technology, healing, coaching to support individuals to reconnect to themselves – https://iamconnected.com/6wc/ 
To partner with the Two Paths Podcast contact info@iamconnected.com
Subscribe to other episodes here – https://iamconnected.com/two-paths/ 
Join Consciousness Hacking mastermind – https://iamconnected.com/mastermind/