Becoming Exponential Challenge
A 6 week challenge, to bring you back to wholeness, teaching you the things that we all should have been taught, but weren't.
A question for you... What's most important to you?
If your answer to that is to
feel whole

,

full

,

enough

,

at peace

,

connected

and

in love with just being

… Then this is for you. 
And here's a secret…
YOU ARE ALREADY THAT

, it's just that no one's taught you how to access it, and what's worse, we've been led to believe that we can only have that with something that is outside of ourselves… a relationship, a role, money, status… But that's not true… the truth is when you feel whole, then your relationship with all those things improves, but you don't feel whole because of those things.  
If you've had enough of feeling separate, alone, trapped by an internal story that tells you that you're not enough, you're not worthy… and as much as you might try to prove to the world you are enough, if there is still a part of you that is missing, unfulfilled, and no amount of stuff out there (relationships, money, status) has filled that gap in you, then…
Find the path Back to Wholeness
I have spent tens of thousands of dollars on courses, programs, sessions, classes, books and audio's in search of myself, who I am and where I belong in this world. Trying to find that joy, inner peace and contentment we're all so longing for but never seem to reach. I can tell you from the very bottom of my heart, this 6 week challenge HAS CHANGED MY LIFE FOREVER! But not just my own life, my children's and all whom I love and spend time with. If I can recommend one thing to you (out of the thousands I've done) this is it. Things will never be the same, in the most incredible way! Please, PLEASE if this sounds like something you're searching for.. you may have just found it! Please reach out to Troy Haines and the team at I AM Connected... you can thank me later - Kelly
Becoming Exponential is for you, if you are a High Performer:
Looking for MORE

Wanting better relationships, health, vitality

Looking for peace and what makes you whole

Craving freedom, self love, expression

Meaning and fulfillment 

Seeking to remove the underlying conditions and internal programs limiting your potential

Exploring the meaning of existence
What it helps them achieve
For high performers dedicated to inner growth,  becoming exponential guides you to:
Finding yourself on the path to true wholeness

Using Transformative Technologies to create a closed feedback loop, so that you can learn and adapt your behaviours in real time, before situations become chronic

Understanding and optimise sleep patterns

Developing a daily practice of meditation along with other habits, learning to influence your brainwave states for greater flow and wellbeing  

Understand and heal some of the unconscious patterns (blocks, self limiting beliefs), programs running that are holding you back 

Using the data to understand yourself  

Supporting positive habit formation

Connecting to a community of other high performers on their way to realising their potential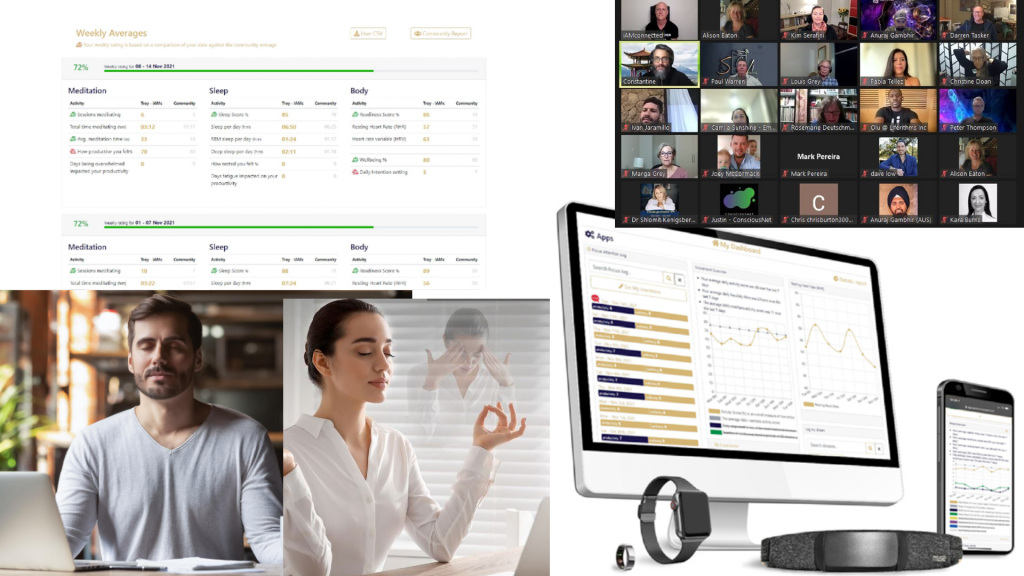 This program gives you everything you need to kick start your journey back to wholeness.
Before kickoff. 

A coach will set you set up with the right technology to begin understanding the hardware as well as your data.
Training

Weekly group content training sessions 

WEEK ONE: Meditation – Weekly training to build a daily practice. You'll learn a zen meditation practice based (see Meditation section below). You'll learn to build a relationship with the mind, understand your brainwave states (Delta, Theta, Alpha, Beta, and Gamma) and how to access different states for wellbeing and performance

WEEK 2: Sleep & Recovery. You'll learn patterns across REM, NREM, total sleep, RHR, HRV and using these to optimise your wellbeing and performance

WEEK 3: Pattern recognition. Often the biggest thing holding us back are the unconscious patterns we are stuck in, creating blocks and self limitations. Using the iAMconnected platform and the support of a coach we work with you to indentify what these are and how to move beyond them  

WEEK 4: Forgiveness. We dive into forgiveness and the profound benefits that forgiveness (of ourselves and others) has on wellbeing, performance and our potential

WEEK 5: Beliefs. Our beliefs need to growth with us. They either help us expand or keep us contracted in our current experience. We work with you to move beyond limiting beliefs and integrate beliefs which support your growth. 

WEEK 6: Habits. What is it that you utlimately want? Are your habits conducive to you having that? What habits do you need break? We'll use the latest in science and technology to support you to develop new habits and positively influence your ability to achive them 
Meditation

6 x weekly group meditation training sessions. Where you will learn a meditation framework to observe the mind. Modules include.

Relesing tension

Releasing emotion 

Right breathing

Observing the mind

Observing the mind (continuation)

Setting up a peaceful place
Tools

Wearable technologies including (if you already own this technology, great it will reduce the cost of participation).

Oura Ring to track sleep, recovery and activity

Muse EEG meditation device to support meditation practice (Optional)

12 Months membership to Positive Prime Technology 

Dashboard of your key data metrics via iAMconnected's integrative platform
Note: This is shared with your coach, to enable us to confidentially support and objectively monitor your progress over the 6 weeks
Coaching 6

x 1 hour weekly 1:1 coaching calls so you can refine your understanding of your data and work through personalised interventions (personalised healing sessions). 

During the challenge – Biotesting recommendations will be offered by your coach on an individual basis, depending on what your data presents.
Support / Accountability

 Daily support from one of our highly skilled coaches via your DailyLog™ on the iAMconnected platform
Community Connect with other members of the iAMconnected community

and experience the potency of the support from the wider iAMconnected Community. 
"I have been working with iAMconnected for the last 6 months. I initially joined to help me improve my inner health and find my purpose for my next chapter. I was gifted with so much more than this. Through the exploration of my own bio-data, intensive program, and daily logging, I started to find the patterns beyond the triggers that needed work. Supported by a Coach daily, I have unleashed energy, capacity, and awareness I never would have gained by figuring this out on my own or in such a short time frame. I have gained tools that I will use for life and am ever so grateful for the major shifts experienced that are now helping me flourish beyond my expectations."
Apply to get started today
If you are someone who is constantly asking more of yourself, whether for health, business / career, relationships or to simply access more of your potential, our team of experts can help you get you started today. Leveraging Transformative Technologies will accelerate your transformation and overcome the hidden obstacles that are holding you back from feeling whole.
If you're ready to step up and become part of our community of high performers, unlocking more of your potential, get started by:
Booking a call below and we can find out if we are a good fit.

Alternatively, if you have any questions, email us at info@iamconnected.com