Revolutionize Your Wellbeing: Explore the Latest Wearable Technologies for Mental Health and Human Performance
Discover the Future of Wearable Health Tech: Improve Your Mental Health and Performance with Innovative Wearable Devices
In today's fast-paced world, we are constantly seeking new and innovative ways to improve our wellbeing and performance. With the advancements in technology, wearable devices have become an increasingly popular tool for tracking our health and fitness goals. But did you know that there are also wearable technologies that can support our mental health and human performance?
At iAMconnected, we have curated a selection of the latest wearable technologies that can revolutionize your wellbeing. Whether you are looking to improve your focus, reduce stress, or enhance your athletic performance, we have something for everyone.
Our range of wearable devices includes advanced sensors and algorithms that can track your biometric data, analyze your sleep patterns, and provide personalized insights to help you optimize your performance. From smartwatches to meditation headbands, our products are designed to help you achieve your mental and physical goals.
If you are looking to enhance your focus and productivity, our range of on body wearables and headsets can help you block out distractions and stay in the zone. With features like noise cancellation, voice control, and brainwave monitoring, you can improve your concentration and reduce stress levels.
At iAMconnected, we are committed to providing our customers with the latest and most innovative wearable technologies. Our products are carefully curated to meet the needs of a diverse range of individuals and lifestyles. Whether you are an athlete, a student, or a busy professional, our range of wearable devices can help you achieve your mental and physical goals.
Don't wait to start your journey towards optimal health and performance. Browse our selection of wearable technologies today and discover how they can revolutionize your wellbeing.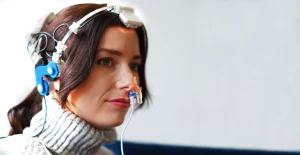 Vielight Photobiomodulation (PBM) Devices Vielight is a company that specializes in developing photobiomodulation (PBM) devices. PBM is a non-invasive, drug-free therapy that uses light to
Read More »
iAMconnected supports the Transformative Technologies movement who are committed to the development of human centred wearable technologies that support emotional wellness and human thriving